While on internet we do not care about geographical barriers and often communicate with people from other countries and regions. Each country has different time (& time zone) at any given point of time. Sending email to a person in middle of the night is not a good idea. Instead, sending email at a time during receiver's working hours will result in better and quick response to your email.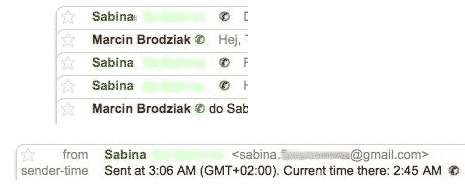 Related – Gmail Goggles to prevent Freak Weekend Email fun
Gmail has introduced new Labs feature 'Sender Time Zone'. With this feature turned ON, you will see green phone icons next to people who are probably awake and readily reachable (if it's between 9:00 am and 6:00 pm in the sender's local time zone). Red phone icons will appear next to people who could be sleeping or out of the office.
You can click 'show details' link to see when a message was sent in the sender's time zone and current time there. This small piece of information can really help interact better via Gmail. So, turn this feature ON and make sure you surprise Gmail friends during their working hours. To turn this feature ON, click settings and then goto Labs tab. Select enable next to 'Sender Time Zone', click save changes and its all done. Interested?