Now you can see website screenshot images along with website listing on Google Search result pages. This is possible using 'Instant Preview' feature on Google Search. It allows you to view website photo preview of website URLs displayed on Google search results pages. You can visually search on Google and click through to desired website after viewing its preview.
Use 'Instant Preview' Google search feature
1. Goto Instant Preview Google search page. Type any desired keyword and hit the Enter key to view search results.
2. Click on magnifying glass icon to see preview bubble with image screenshot of specific website URL.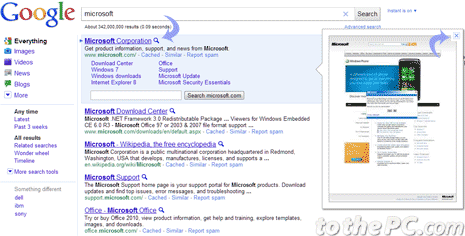 3. Click X close button at top right of preview bubble to close it. You may see preview of any search results listing by hovering mouse over it.
View Demo: Instant Preview on Google Search
This feature may be rolled out to default Google(.com) Search very soon. As of now, you can use Instant Preview landing webpage (as mentioned in point 1) to use Google Search with instant website preview feature. Previously, a similar type of webpage thumbnail 'page preview' feature was introduced by Google with such functionality.