Machine language translation has now improved to a greate extend. Just like translating online documents at Google Docs, you can translate language of document within Microsoft Word 2010 program. It has mini-translator feature that show translation for any word on mouse hover. You can also translated specific text in a document or translate complete document using MS Word translation feature.
Words translation with mini-translator
1. Launch MS Word 2010 program and open any existing document (or type fresh document).
2. Then click on 'Review' tab and then click on 'Translate' button.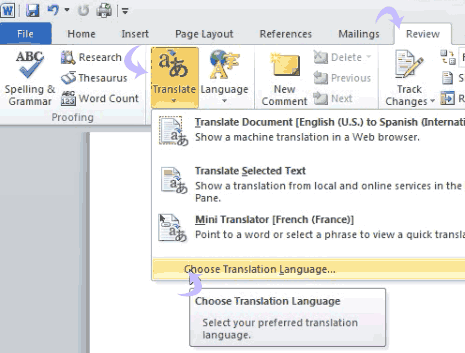 3. Check for language written next to 'mini-translator' option. If you want to set different language, click 'chose language translation' option at the bottom of pop-up box.
4. In the new window, select the 'translate to' language of your choice and click OK.
5. Now click on 'Translate' button, mini-translator should show new selected language.
6. To view translated words, hover your mouse over any word in the document. A pop-up window will show translated word and its meaning in selected language.
Full document or selected text translation
1. Perform above steps 1 and 2.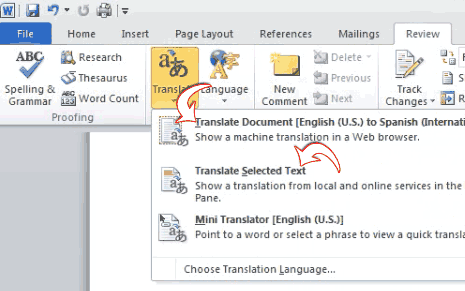 2. Click on Translate button and click either of 'Translate document' or 'Translate selected text' for language translation of specific Microsoft Word document.