Internet Explorer crashing too often? Want to add customized features to IE like Open Favorites in a new window? 'RepairIE' is a cool utility that allows you to tweak and repair IE with ease.
Incase something goes bad with the internet explorer, this utility allows you to reset to default registry settings and fix the issue. This helps in more stable IE with constant fixing of IE registry errors.
Besides the repair part, you can also use it to tweak Internet Explorer the way you want. For example:
Restrict Web Sites from Installing Software.
Empty Temporary Internet Files on Exit.
Add a Background Bitmap to the Internet Explorer Toolbar.
Automatically Resize Images in Internet Explorer.
Disable File Download in Internet Explorer.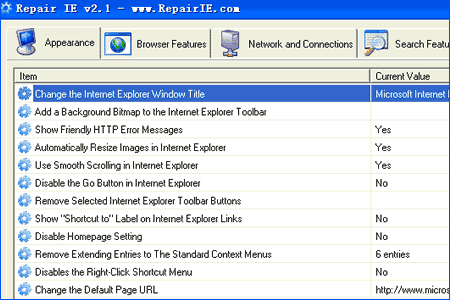 Download RepairIE to tweak and repair Internet Explorer. It works fine on Windows 98, Me, XP and Vista. Please note: this involves registry changes, backup registry and use discretion!