iOS 4.1 software update introduce lot of new features like HDR photos and HD video uploading to Youtube. You can record HD videos on iPhone and directly publish them on Youtube website. To get started, you will need iOS 4.1 software update on iPhone and a Youtube account for sending videos from iPhone to Youtube.
Publish HD videos on Youtube from iPhone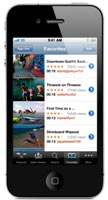 1. While watching video on iPhone, tap 'curve arrow' icon at bottom left.
2. On next screen, tap 'Send to Youtube' button.
3. Then sign into your Youtube account.
4. Enter publishing information such as Title, Description, and Tags.
5. Tap Category to choose a category. Then tap Publish for uploading of video to Youtube.
Using above procedure you can easily upload videos from iPhone to Youtube website. Some videos may not upload or transfer, depending on the length of the movie and other factors.