Do you want to see details of network routes working on your computer? Free portable tool "Net Route View" provide easy user interface to view such information. It display list of all routes of your current network setup including finer details of different aspects like: destination, mask, gateway, interface IP address, metric value, type, protocol, age (in seconds), interface name and MAC address.
View, add or remove routes of network
1. Download NetRouteView utility.
2. Unzip & double click to launch it (portable).
3. It will show existing network routes on the PC.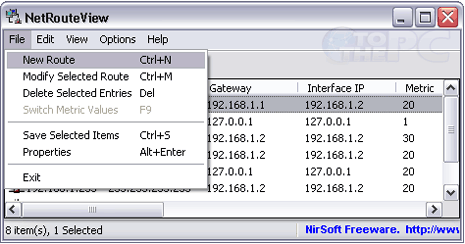 4. Goto File > NewRoute to add new network route. You can also modify or delete existing network routes.
This utility works fine on all version of Windows including 7, Vista and XP. As of now, it does not support IPv6 IP address format for networks.