Newer Safari browser has lot of interesting features including "Reader" feature. Also called as Safari Reader, this in-built feature allows to you surf text only version of webpages. It removes CSS formatting, images, advertisements and display webpage text just like a Word document. Besides the distraction free webpage text reading, you can quickly email or print the displayed text.
Use Reader feature in Safari browser

1. Launch Safari browser (make sure you are using Safari 5 or above, else download latest version from apple.com/safari)
2. Open any webpage in Safari like tothepc.com
3. Click "Reader" button on the right side of address bar.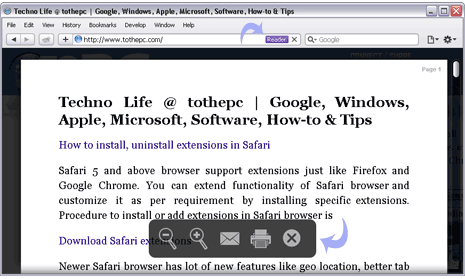 4. A new window will pop-up displaying "text only" version of specific webpage. You can navigate full text contents of webpage by scrolling it down. Reader window also show action button at the bottom allowing you to zoom in, zoom out, print, email and cancel.
If you do not use Safari browser and want to get similar feature in your browser – then use Textise online tool and browser plugins to view text only version of webpages in browser.