OutlookStatView is a small utility that display statistics associated with Outlook email client on your computer. It shows different type of information which can be helpful in further analysis. For each user or email, following information is displayed:
Number of outgoing messages sent to a user.
Number of incoming message users send you.
Total size of messages sent by a user.
Email client software used by specific user.
Time range that you send/received emails with specific user.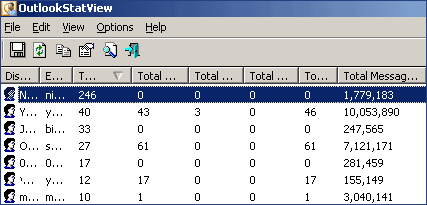 Related – Put Outlook Calendar on desktop for easy access
OutlookStatView utility does not require installation: just download, unzip and double click the utility file to start using it. It works fine on Windows 2000 , XP, Vista and works with any version of Microsoft Outlook. Download OutlookStatView [link] for interesting statistics for users and email you interface using Outlook on the computer.