Previously, Movie Maker application to create, edit cool movies from photos and videos has been part of Windows. This is missing from upcoming Windows 7 operating system and interested users can download all new version of Windows Live Movie Maker separately. New version has been released as part of Windows Live Essentials download which also feature other free applications like messenger, live writer, toolbar etc.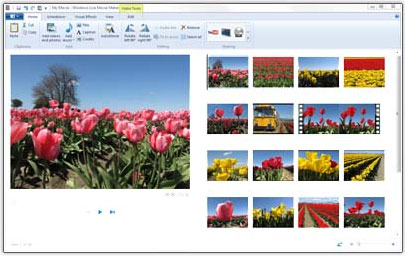 Feature of new Windows Live Movie Maker
1. Support direct upload of videos online to Youtube.
2. Render videos in full High Definition HD format.
3. New version feature Office 2007 like ribbon interface.
4. It has added support for Windows 7 Jump lists.
5. Quick, improved video editing and creation.
6. Create slideshows with cool new video effects.
Download Windows Live Movie Maker for Windows 7 and Vista to create cool movie with ease. Alternatively, you can try free Digital Clip Factory software to create basic movie videos from photos on the computer. Here is video explaining all new Windows Live Movie Maker 14.