Setting custom status message for Yahoo chat is a routine for many users. Custom message has to be (funny yet) relevant to personality of a specific user. If you are lost on funny one liners for your Yahoo chat status then checkout automatic 'status-o-matique'. In single click you are view random witty status messages within Yahoo Mail inbox and select either as your current status message.
Random witty status message for Yahoo chat
1. Login into your Yahoo Mail account and goto to the main screen.
2. Click "What are you doing right now?" link at the top.
3. Then click exclamation icon (status-o-matique) for new random witty status message. Click to view few messages and set any of the pre-defined yet relevant custom message for your account.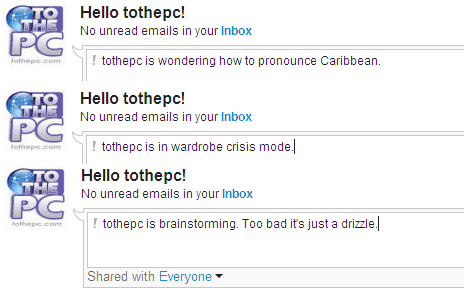 Above are few status message examples generated through automatic 'status-o-matique' exclamation icon. Now there is no reason for NO cool status message on your Yahoo account!