Do you want to share secret information with friends online? One easy way for this is to password protect the text you type with a password. No one can access that specific information without a password. iLocker is an online tool that allows storing and sharing of password protected encrypted text online. To get started: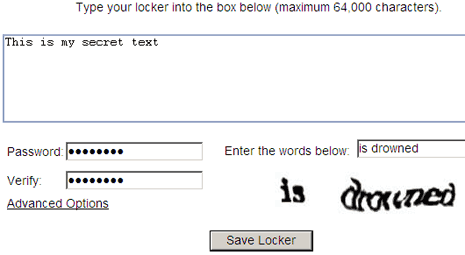 1. Open iLocker website & click create locker.
2. Type or paste your secret text in space provided.
3. Enter password and captcha words.
4. Click Save Locker button.
Related – Encrypt & save text as password protected EXE File
Next screen will show unique URL for your password protected text [like: www.ilocker.org/4789]. You can share this URLwith friends along with password for secured communication online. While this is secure that usual IM chat, use discretion using such tools to share highly sensitive information – what say?