Do you use Yahoo Messenger on iPhone device to stay connected with chat buddies? Now you can also include Windows Live friends in buddy list and chat with them like Yahoo Messenger friends. New update for Yahoo Messenger for iPhone (1.4) allow Yahoo Messenger users to add and chat with Windows Live chat buddies.
Update Yahoo Messenger on iPhone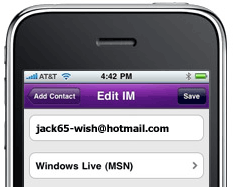 To download latest version of Yahoo Messenger on iPhone, tap the App Store icon on your iPhone and search for Yahoo Messenger.
Alternatively, you may check for update alert on App Store icon or download it directly from itunes link. [via YM blog]
It is a welcome addition for chatting with friend without having to worry about platform service being used. Recently, Messenger for Mac update made it possible to make audio, video calls between MAC & Windows PC.