Google Chrome is a flexible web browser allowing users to customize it according to their requirements. There are number of ways to customize new tab window in Google Chrome. While tabbed interface keeps browsing experience neat, at times we need to open specific website in separate window instead of tab(s) in same Chrome window. While you can launch new Chrome window by clicking Chrome icon again – how about converting current Chrome tab into new window with original website (webpage) contents?
Detach Chrome tab into window with shortcut hotkey
By default you can de-attach and convert tab into window with drag & drop routine. In Google Chrome just drag any tab to browsing area and it should launch as new window. If you love doing everything using keyboard, you can also add quick keyboard shortcut for converting tab into window functionality in Google Chrome browser.
1. Open Google Chrome browser and then open Keyboard Detach Tab extension webpage. This extensions allows you to add feature of converting tab into window using keyboard hotkey.
2. Click Install button to automatically download and install the extension in Google Chrome on your computer. After install, refresh all opened webpages by pressing F5 key or clicking refresh button.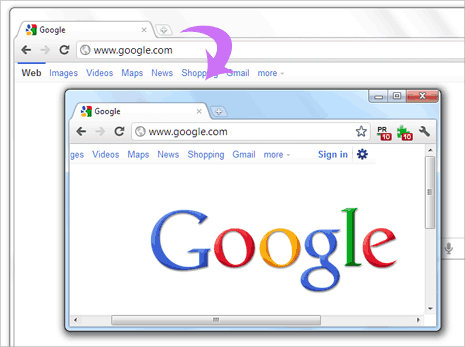 3. Now click to open tab that you want to open as new window and press Ctrl + Shift + P keys at the same time. The current tab will pop-up as new window.
Similarly, you can de-attach and convert any tab in Google Chrome as new window using keyboard shortcut. For sure one handy hotkey addition for user who love using keyboard while browsing internet in Google Chrome.