Majority of modern web browsers now support Geo Location functionality. This feature enables web browser to send your physical location details to websites requesting for the same. Few users may want to turn off this feature due to privacy concerns. If you use Opera as default browser, you can easily disable Geo Location feature using following procedure.
Turn Off Geo Location in Opera browser
1. Launch Opera browser. Type opera:config in the address bar and hit the Enter key.
2. Preferences Editor will open. Click on "Geolocation" option to see associated settings.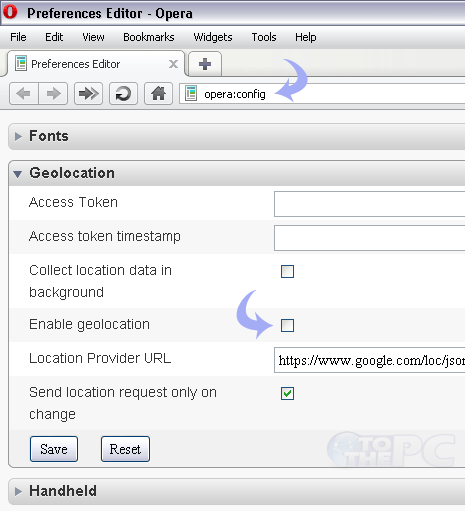 3. Click to uncheck" Enable Geolocation" option (as seen in screenshot above).
4. Click "Save" button. Now you can browse the internet in Opera without worrying about your physical location information being transferred to websites requesting for such details.
You can also disable Geo Location feature in Safari, Google Chrome and Firefox web browsers.