Google Chrome got many new users. Opera's new version impressed many to try out this web browser and so did Flock 2.0
While we can easily switch and jump to new web browser, our important bookmarks are left behind with the old web browser. Well, not anymore – make the process of import & export of bookmarks real easy with Transmute.
It allows you to import and export bookmarks even between the latest browsers, including both Google Chrome and Mozilla Firefox 3. It gives option to merge existing collections together, rather than overwriting your old file.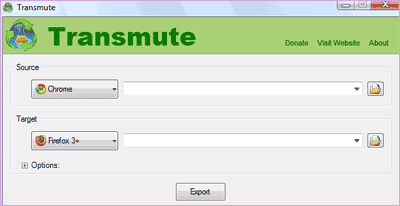 You can backup your old bookmarks before the merge or over-writing process. Besides being easy and simple – its all free to download and use. Make bookmarks management easy irrespective of web browser with Transmute.