A while back, Google Earth went for upgrade to add Oceans and 3D Mars exploration. Now, Google Earth has released plugin that allows you to explore Ocean beauty online within web browser. After installing plugin, you can follow along as National Geographic explorer, Sylvia Earle, who narrates a tour through highlights of the Explore the Ocean layer in Google Earth.
Features of Google Earth Ocean Showcase
During the tour you can pause and explore surrounding areas and marine animals, like the humpback whales below by watching cool videos. You can also explore following using this Google Earth plugin: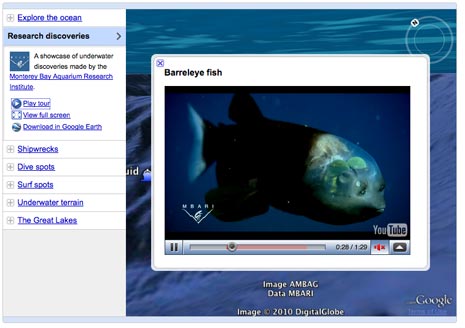 1. Underwater discoveries by Monterey Bay Aquarium Research Institute.
2. A showcase of worldwide ocean shipwrecks.
3. Worldwide dive spots, all data and photos contributed by locals.
4. Surf spots, all data and photos contributed by locals.
5. A showcase of the most detailed terrain in the ocean.
6. Play the tour of the largest lake, Lake Superior.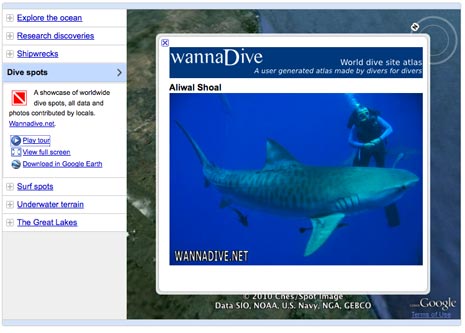 Tempted to dive and explore underwater world from the comfort of your PC? Grab the Google Earth plugin from Google Earth Ocean Showcase [via] and start your journey to the blue world!