Google Chrome browser can be extended in terms of functionality with ease by installing relevant extensions. We have already seen usefulness of calculator within Chrome. You can also add fully featured password generator in Chrome browser. It allows you to generate secure and complex passwords that can be used for your web account logins.
Add password generator to Chrome
1. Open Chrome browser & install Secure Password Generator extension.
2. Click password generator icon on the menu bar. Configure options for generating password like: uppercase, lowercase, numbers and so on. Also select the password length and number of passwords to be generated.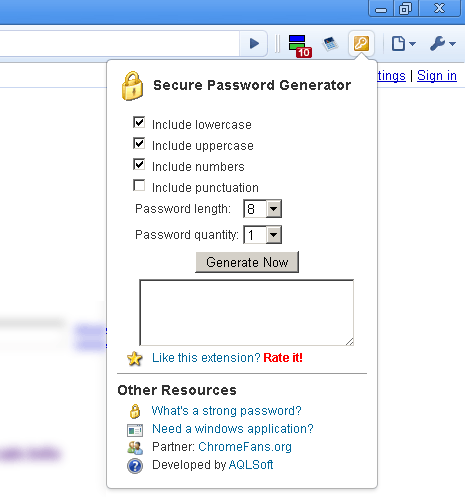 3. Click Generate Now button to see password created using this generator tool with Chrome. Copy passwords and use them for your online accounts.
Besides above, there are number of standalone password generator tools. You can also re-create strong passwords from current passwords.