Google introduced Google Reader Play feature for visual browsing of RSS feed content. It allows you to view RSS content in the form of big headlines along with image thumbnails of post images. We have already seen procedure to start Google Reader Play from Google Reader window. Here are two more easy ways to use Google Reader Play (specially for users who do not use Google Reader).
Quick bookmarklet for Google Reader Play
Drag the Google Reader Play This bookmarklet button to your bookmarks bar. Open any webpage and click bookmarklet button to start Google Reader Play of RSS feed content of that webpage. [via gos blog]
Google Reader Play Chrome extension
This is even more easy and handy way to experience Google Reader Play, if you happen to use Google Chrome for browsing internet. Download display page feed in Google Reader Play extension and install it.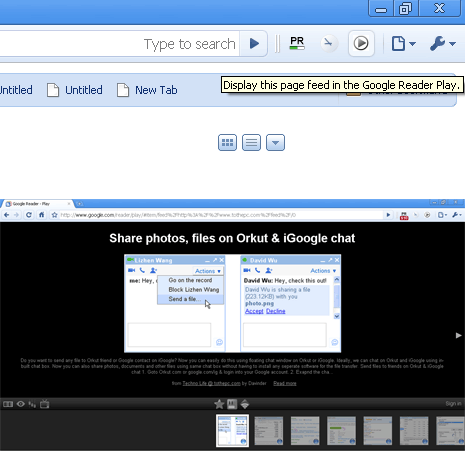 Open any webpage and click play button at top right to start visual Google Reader play within Chrome browser. Very handy and attractive way to browse website content.