Internet Explorer 8 was launched with whole hog of features including web slices and accelerators. They provide quick one click access to information from your favorite websites. If you have been using IE8 and now looking for India specific websites / information using relevant web slices and accelerators – then head over to Explorer My Way.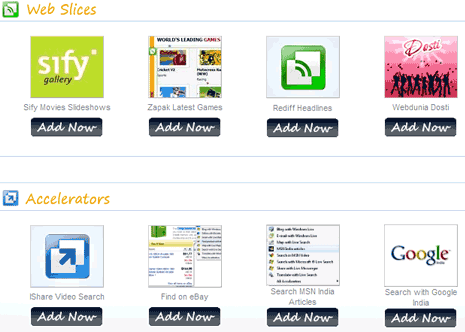 It has neat listing of web slices and accelerators for Indian websites. It includes web slices for Sify movie slideshows, Zapak games, Rediff headlines, Webdunia dosti etc. Accelerators include: Google India search, ebay India, MSN India articles, Live maps etc. Checkout Explorer My Way for India specific web slices and accelerators to spice up and quicken your web browsing experience.
For starters: Web Slices appear in the browsers Favorites bar and provide the simplicity of accessing updated information from your most visited websites, without physically going there. While Accelerators speed up everyday online tasks like search, email, social networking, blogging etc. within the active web page by merely highlighting the relevant text.