Camtasia Studio Software is considered one of the better screen-casting software around. Free downloadof its previous version was also thrown open. This software has lots of options to customize your screen-cast. However, for a newbie this can be bit confusing.
For basic screen-casting, Screen2Exe is a very good alternative. As the name suggest, you can record screen movement as a video and save as an EXE file. No muddling around as this software only contain basic options. You can view the end result by double clicking on output EXE file.
Using this software is very easy. It involves 4 steps procedure. After you download and install the software, launch the application. First you need to select the range of recording are – use mouse to make selection.
Second step involves selection of video quality among: Very good, good and efficient grey scale. Besides, you can configure frame rate for the video movement. Audio option to record from MIC is also present.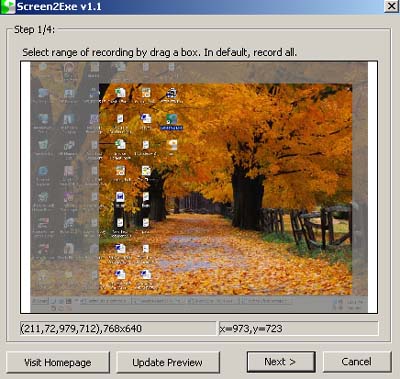 Third step involves initialization of recording session. Click on 'start recording' to begin screen-casting. Fourth and final step involves saving screen-cast video. Enter the relevant title, description, file name and save the screen-cast in the form of an EXE file.
Screen2Exe: More Information – Download it 
Playing screen-cast file does not require any bells and whistles. Just double click on the file to play the screen-cast, remember it is an EXE file. Very lite and basic software that can record screen movement for free – neat! via