If you factory reset iPad or iPhone, all apps downloaded by you over a period of time are deleted. Fortunately, there is not need to re-purchase apps that you have bought before. You can simple re-download those previously purchased apps in iTunes for free. You do not need to pay for apps you have already paid for in the past. You can download individual or all apps bought and downloaded before for iPad and iPhone devices within iTunes on your Windows or MAC system.
'Purchased' option in iTunes to re-download apps
1. Launch iTunes on your computer and look for 'Quick Links' section at right side of iTunes window. Click Purchased option in the bottom of the list.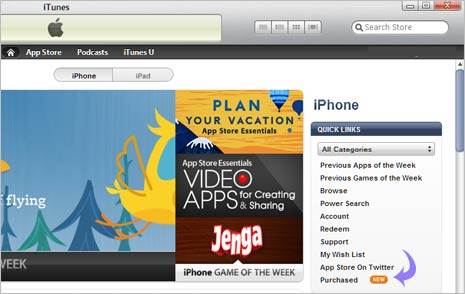 2. You will get prompt to enter login password of your Apple ID. Type password and click 'Sign in' button to proceed. Now you should see listing of apps purchased by you previously.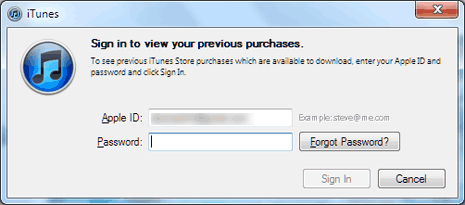 3. You can download individual app by clicking download button next to specific App icon. To download all apps click the 'Download all' button at bottom right side.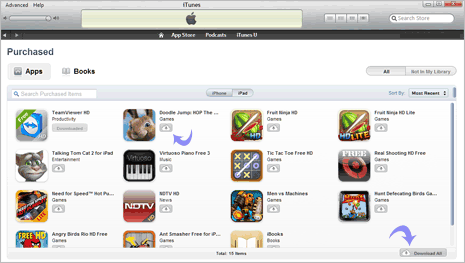 4. Apps listing is displayed by Apple devices like iPhone and iPhone. You can view respective apps downloaded on different applications by clicking iPad and iPhone buttons at the top.
5. If you have too many apps, you can use search function to look for specific apps and download them. Also, you can view listing of apps by 'Most Recent' and 'Name' from option at top right.
Video: Re-Download past apps purchases in iTunes
This for sure is a handy feature in iTunes for quick view of all apps purchased by you till now. Also, you may download all or individual apps anytime for NO extra price – you already paid for them once and Apple remembers that!