Generally we can show related posts as simple text links under each post on Blogger and WordPress blog. Some sophisticated WordPress themes do have advance feature of showing related posts along with associated thumbnail image. Well, you can implement this 'so called advance' feature in dead simple manner using free web service LinkWithin.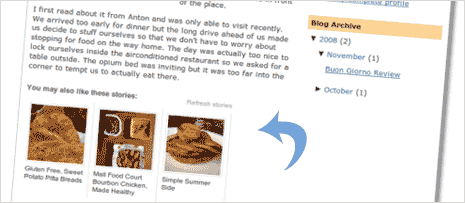 Related – 4 Awesome Widgets showing RSS content with Wowzio
It allows you to neatly display related posts with resized images extracted from respected posts under every post on your blog. WordPress users need to install WordPress plugin to get going, while Blogger users can quickly add widget from 'add an element' section under layout.
You can also use it on typepad and other blogging platforms. By default it has widgets in 2 looks: dark text on light background (default) or select light text on dark background. Currently, this service is all free and does not show any adds. See live example and grab your code for showing related posts in cool manner complete with images using LinkWithin.