Ever blog and almost every website has respective RSS feed. There are number of RSS to HTML services and can even use Google to put any RSS feed on your website.
Wowzio is one mind blowing service (Yeah, I am too impressed!) that allows you to show RSS feed content is very attractive format. To get started, just enter your blog RSS feed, chose the widget of your choice and grab the embed code. Here are 4 widgets on offer.
1. Panoramic SlideShow Widget – It automatically finds all the pictures on your blog and creates a beautiful slideshow from them for you. Each slideshow image links to its corresponding post
2. Live Activity Widget – It shows a real-time list of your blog's latest visitors like: where they came from and what post they are reading. It gives your users an opportunity to explore posts that others are reading, and helps foster a sense of community.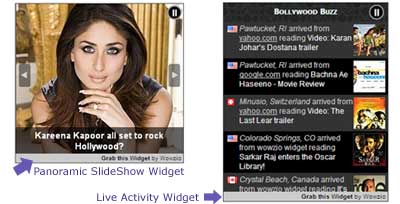 3. Tag Cloud Widget – It displays the top tags for your blog. Wowzio extracts your tags, technorati tags, as well as auto-extracts tags, then scores them based on recency, frequency and placement. You need to click on a tag to see the actual magic in this widget (love this one!).
4. Feed Content Widget – It displays the most recent 50 posts from your blog. With each post, the widget can also display an image, as well as a short snippet of the post body.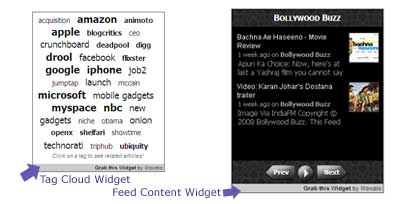 You can customize widget's color and size. By default auto-fit option is very good – widget takes size of your sidebar column at your blog. Get set, start playing around and flaunt the widget of your choice at wowzio.
P.S. RSS feed not working? This will most likely happen when submitted RSS feed is invalid or does not exists. Here is quick check:
Blogger users, default RSS feed is blogname.blogspot.com/atom.xml
WordPress users, default RSS feed is www.blogname.com/feed/