Home users still prefer Windows XP to Windows Vista, you don't need to conduct a survey to prove this point. Even as Microsoft prepares itself to launch New Vista Ad campaign, Vista in enterprise circles is in rough waters.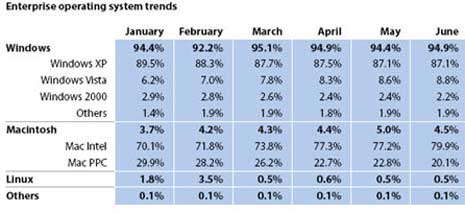 Above chat show the whole Windows XP and Windows Vista Story. Like home users, companies are not keen to adopt Vista. PERCEPTION problem? Well, may be as Vista share only jumped to 8.8% in June from 6.2% in Jan.
On the other hand, Windows XP share saw little slip but still commands healthy share of 87.1% in June. As pointed [Zdnet]Â "… 18 months after the release of Windows Vista, enterprise adoption is still in the single digits."
This should be a worry for Microsoft, either they should push Windows Vista further or keep it neutral and get Windows Seven real quick.
And of course continue with Windows XP for sometime, Microsoft need to earn and XP is still attractive option for the same. Blast from the past - Did you see infamous Vista speed record?