Skype is a popular medium for making PC to PC and PC to phone calls. If you are an active Skype user, then grab free portable utility "Skype Log View" to view complete details. This utility allows you to read and neatly view contents from skype log files of each and every Skype call / chat conversation.
Detailed view of Skype calls & chat logs
1. Download Skype Log View portable utility on the computer.
2. Double click to unzip downloaded file and launch the utility.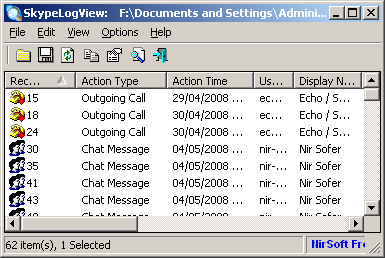 3. It will automatically read Skype log file and display its content in neat tabulated manner.
You do not need Skype program installed on computer for this utility work. It can read standalone Skype log file, even from an external device. You can also export and save Skype chat logs in text, html, csv and xml format.