DjVu is a file format for very high resolution images of scanned documents, digital documents and photographs. It is a new image compression technology developed since 1996 at AT&T Labs to allow saving of high resolution documents containing text, images in least amount of size.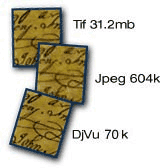 This file format allows better mix of legible text and clarity of images in high resolution document and keeps the final file output to least possible size.
"…DjVu allows content developers to scan high-resolution color pages of books, magazines, catalogs, manuals, newspapers,historical or ancient documents and make them available on the Web."
Besides PDF format, DjVu is leading file format used to circulate academic texts and documents in digital format on the web due to added advantage of clarity of content and less size. DjVu also contain OCRed text layer which allows easy cut and paste of text part. There are number of DjVu resources and tools to create, convert and view DjVu format files.