DownTester utility allows you to check internet download speed at multiple URL locations. You can enter multiple URLs like google.com, yahoo.com etc and this utility will check your connection speed in ability to download data from specified URLs. After the test, it displays the speed in Kb/sec and also associated downloaded data in Kbs.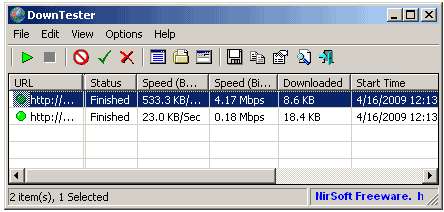 Related – 10 Resources to Check speed of Internet Connection
It is a portable utility and does not require installation: just download, unzip and double click to run the utility. After the test you can save results as a text, html, xml or csv file. Download DownTester [link], it works fine on Windows 98, 2000, XP, Vista and Windows 7. Very neat and easy utility to check download speed at multiple URL locations across the internet.