Gmail Priority Inbox is an experimental feature that should be available to all Gmail users. It allows automatic sorting of email messages based on their importance. To get started, enable Gmail priority inbox feature in your Gmail account and configure basic settings to view more organized Gmail inbox.
Activate & use Priority Inbox feature in Gmail
1. Goto Gmail.com to login into your Gmail email account.
2. Click on 'New Priority Inbox', bright colored link at top right. Then click on 'Try it now' link at the bottom.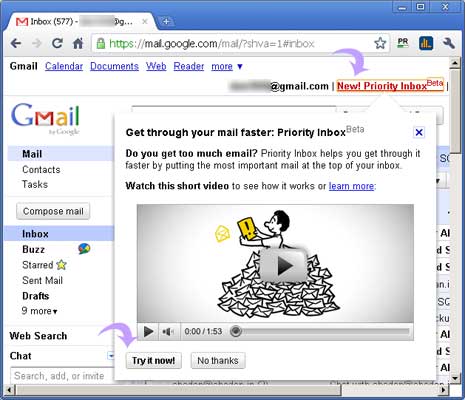 If you have already activated 'Priority Inbox' feature, then click 'Settings' and then goto 'Priority Inbox' tab to customize options for the same.
3. You will see 'Get started with Priority inbox beta' window. It will show sample of your existing email messages categorized as 'important' and 'not important'. You can re-order emails by clicking + and – marker arrows at right side.
4. Once you are happy with sample email messages categorization, click 'That looks right, goto Priority inbox!'.
Your Gmail inbox will refresh and show email messages neatly categorized in 'Priority inbox' layout. You can customize settings to always display priority inbox on Gmail login. Also, you can hide priority inbox – if you do not want to use this feature.