Searching web for information and sending email to friends are major routines for any user on the internet. How about combining both for better productively and quick web working? Now you can Google Search for information within Gmail inbox without having to open new webpage or refresh existing webpage.
Google Search while composing in Gmail
1. Goto www.gmail.com & login into your account.
2. Click 'Compose Mail' button on left bar.
3. Then click Google 'G' icon to pop small box for Google Search.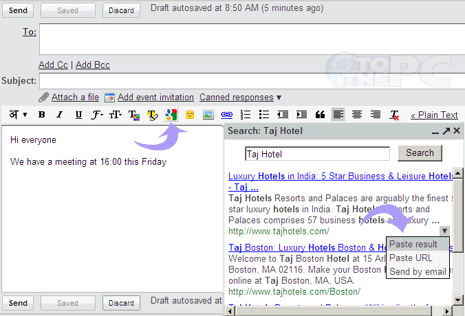 4. Hover mouse over any search result, then click on down arrow icon to see options like: paste result, paste URL, send by email. These options allow you to directly insert Google results within message being composed.
Besides web search, you can also use this feature for word definitions, calculations, local results, weather, news. It is available by default in every Gmail inbox (no need to enable anything to get this feature). [via GmailBlog]