Due to free availability of all types of content, monitoring and control on internet surfing is a tough task. Google is doing its bit: so after safe Google Image search for blocking mature images, it has introduced Safety mode on Youtube website. With Safety mode turned ON, user will not able to view potentially objectionable and flagged video material.
How to Turn ON Safety mode on Youtube
1. Open Youtube.com website.
2. Scroll to bottom of the homepage & click "Safety mode is OFF"
3. Then select the ON option & click 'save' button.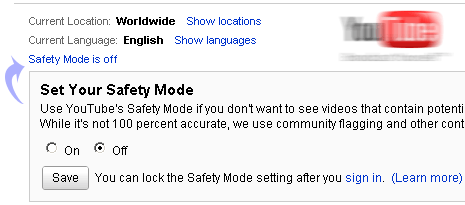 Youtube Safety mode Video demo
While above method is temporary, you can make is permanent by locking safety mode by logging into Youtube account. Besides this, there is always an extreme step to block specific website (like youtube.com) on the computer. [via]