Do you want to view and check webpage in different window size resolutions? Ideally, you would change system screen resolution to preview webpage formatting in new resolution size. You can easily do this online without having to change system resolution settings or installing any plugin software using following online tools.
I. Use 'Text Size' online tool
1. Open Text Size website on your computer.
2. Enter webpage URL that you want to check.
3. Select resolution option from drop down box (240X320, 800X600, 1024X768, 1280X1024 and so on).

4. Click 'Refresh iframe' or 'Open Pop-up' button to preview webpage in different window resolution size.
You can also use keyboard shortcuts for quick navigation: + & up arrow to Zoom In, + & down arrow to Zoom Out, space to switch to different resolution and f to toggle.
II. 'View Like.us' web resolution check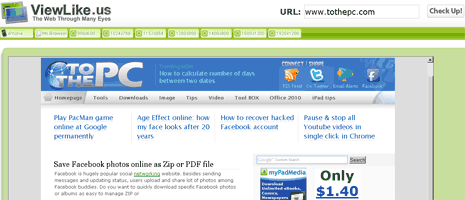 ViewLike.us is an easy to use online tool to check website in different screen resolutions. To get started, enter webpage / website URL and click 'Check up' button. You can toggle between popular screen resolutions sizes and preview webpages in respective resolutions. Resolution options include: iphone, wii browser, 800X600, 1024X768, 1154X864, 1280X800, 1400X900, 1600X1200, 1920X1200.
III. BrowserShots online compatibility test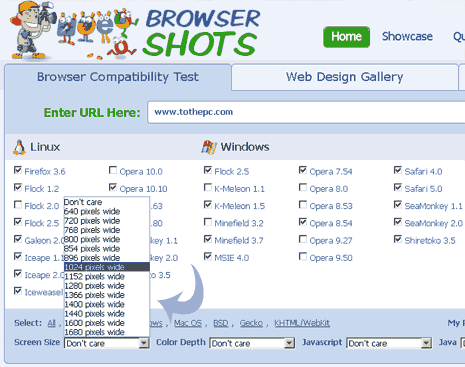 BrowserShots provide comprehensive tools to check website in different browsers, resolutions, color depth and more settings including javascript, flash enabled. To get started, enter your website URL and select the resolution from drop down box next to "screen resolution" at bottom left.
You can also preview website in different screen resolutions using portable Screen Size viewer tool. It allows quick webpage preview in various screen sizes.