"… my favorite website, blog does not provide RSS feed subscription to track regular updates in my RSS feed reader". Are you facing similar issue? Well, there is easy workaround to get RSS feed updates of any website that do not offer RSS feed. You can use third party online tools to generate RSS feed of specific website / blog and receive respective updates in your RSS reader.
Google Reader for website updates with no RSS
1. Goto http://www.google.com/reader & login using Google account.
2. Click Add a Subscription button & then add website URL that does not provide RSS feed (for example: http://www.google.com/)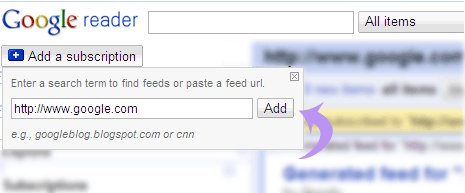 3. Click "Add" button. Google will generate RSS feed of that website.

4. It will show latest updates of specific website marked as "This is Google created feed".
Page2RSS online service to generate RSS

Besides Google Reader method, you can use Page2RSS online tool to generate RSS feed of any website or webpage. Just enter URL of website / blog and click "to RSS" button to view RSS feed contents. You can subscribe to generated RSS feed in your favorite reader by using direct RSS feed link listed on right side.
Besides Page2RSS, there is another similar web service to create RSS feed of any webpage. Checkout Feed Beater to generate RSS feed or email alerts of any webpage.