Lot of users have multiple Gmail accounts and use each account for personal and professional needs. Do you want to transfer all email messages from one Gmail account to another? Ideally, you can forward emails one by one to transfer email messages from one account to different account. However, this can be troublesome if you have lot of email messages for the transfer. You can automate this procedure and transfer all emails between accounts with quicker and easier procedure.
Transfer Email from one account to Another
1. Log on to your gmail account from which you want to transfer email and click on setting on the top right corner of screen.

2. Under the Forwarding and POP/IMAP tab click on Enable POP for mail in front of POP download.

3. Now log on to your new (or other) Gmail email account and then click on Settings.
4. Under the Account and Import tab, click on Add POP email account next to Check mail using POP3. A window will pop up.

5. Enter the email address of the account from which you want to import emails and click on next step.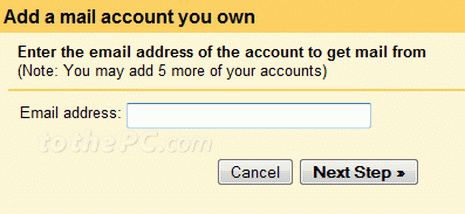 6. Enter the password of the email account and click on POP.gmail.com from the  POP Server drop down menu and click on add account.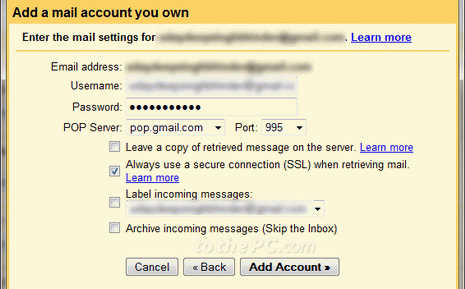 7. You should see a promptthat will be like to send email as abc@gmail.com. This is useful if you want to receive email in your new account but reply using the old account only. Then it will ask about the old gmail account and click on next step.

8. Before the process of email import, it will ask for the verification code that it will sent to your old account. Click on Send Verification.

9. Once Verified,  just sit back and watch all your emails get imported into the new Gmail account.
Please note: if there are lot of email messages, be patient as it will take some time for email messages to get imported to your new Gmail account. Besides transfer of email messages between Gmail account, you can also import Yahoo, Hotmail, AOL email into Gmail account.