Hard drive is at the heart of any computer, if it goes bad – one can lose all the information and system wont start at all. To can take preventive steps, you can check Hard drive for any possible 'technical' problems by looking through SMART information. SMART stands for Self-Monitoring, Analysis, and Reporting Technology.
View SMART hard drive details for problems
SMART details comprise of technical functional hard drive parameters. You can easily view the status of SMART details using free portable utility Disk Smart View. It shows SMART information in neat tabulated format. Besides the current values, it also show the status of hard drive against each parameter under 'status' column.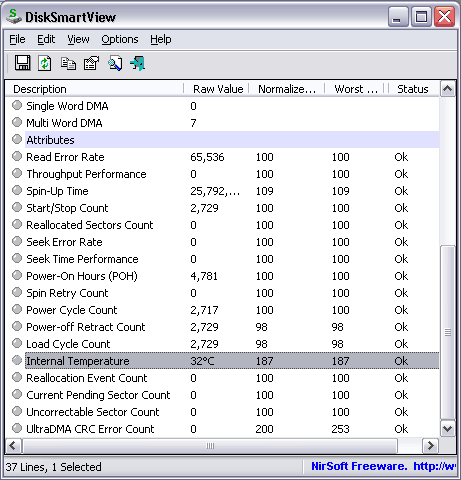 It shows details like: disk model, firmware, serial number, cylinders/heads, power-on hours (POH), internal temperature, disk errors rate, spin up time, load cycle and much more. Download Disk Smart View utility to view SMART hard drive information and determine if the disk is healthy or going to fail! [See Hard drive paritions info]