Technical details can be overwhelming, specially when displayed in unformatted manner. There are number of utilities to view basic hardware / software details of a computer like portable Speccy and system information tool. Ever wanted to see finer details of hard drive (partitions) on your computer? Portable Disk Counters View makes this simple with easy to view interface.
Detailed Hard drive's functional specifications
1. Download Disk Counters View utility.
2. Unzip it & double click to launch it.
3. It will automatically display detailed hard drive partitions.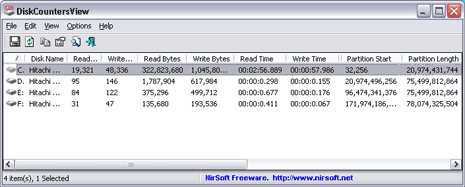 Displayed details including: general drive information, disk name, partition number, partition location, hidden sectors, cylinders, tracks, sectors, bytes, read – write time and count. Strictly for users interested in heavy technical details of a hard drive.