Google is experimenting and implementing lot of user interface ideas from Bing search. Previously, it was new left sidebar feature turning Google Search result page from 2 columns to 3 columns. Many users wanted to remove left sidebar and switch to classic Google. Now, Google has launched feature to add and change background image wallpaper to Google Search interface.
Do you want to remove this feature? For users in love with simplistic user interfaces, background image on Google for sure is an annoyance. As of now, there is no direct way to remove background image feature – however, you can explore following workarounds.
1. Use Google SSL instead of usual Google search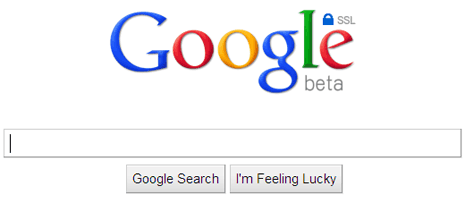 Google SSL is more secure version of Google search. In Google SSL all search keywords sent from your computer to Google server are encrypted and cannot be intercepted by any third party in the middle. Besides being more secure, Google SSL does not have option to change background image – cool, isn't it?
2. Use Google search without Google account login
If you are logged into your Google account, you will see 'change background image' link at bottom left part of Google search homepage. Just log out from your Google account and go back to Google search homepage – 'change background image' should no longer be visible. UPDATE – Google is randomly showing 'change background image' link even when NOT loggged in.
3. Use local Google Search domains
Instead of using google.com – you can use local Google search domain. As of now, google.co.uk – google.co.in and so on does not have change background image feature.
Do you know any other way to remove Google background image feature? Share with us by adding a comment below – happy Googling!