Partly damaged or corrupted AVI video files can give lot of problems during video playback of such files. Video freezes at random, fast forward and manual seek do not work. This all can happen when AVI video file that you are trying to play is corrupt or partly damaged. You can repair and fix such video files using free small "Digital Video Repair" tool.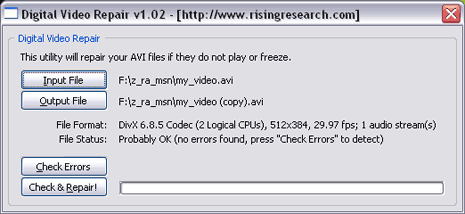 Features of Digitial Video Repair tool
1. Repairs AVI files not completely copied from CD, DVD or other source.
2. Repairs AVI files not completely downloaded from Internet like BitTorrent.
3. Helps fix video freezing during video playback.
4. Repairs AVI files & allows playback with usual fast forwarding & seek.
5. It has simple, easy to use interface.
Also See – Convert audio / video to EXE self playing file
After download and install of Digital Video Repair application – click "Input File" button to select the damaged AVI video file. Then click "Check & Repair" button for the video repair and fixing process. On handy and easy way to fix bad AVI video files. Download Digital Video Repair [weblink]